Soil Site Details: Kamloops Solonetz

Soils on this site are Solonetzic. These soils have been influenced by salt accumulation. Very unique plant communities have adapted to live in these high-salt (saline) conditions!
Basic Facts
Soil Order: Solonetz
Ecosystem: Grassland
Climate Zone: Semi-arid
BC Biogeoclimatic Zone: Bunchgrass
Location: Lac du Bois Provincial Park
City, Region, Country: Kamloops, British Columbia, Canada
Lat / Long: 50.7245/ -120.392
Soil Classification
Soil Order: Solonetz
Great Group: Brown Chernozem
Subgroup: Solonetzic Brown Chernozem
Soil Series: Godey
Classification Code: SZ.BC
Soil Horizons Present: Ahs, Bn, Cs
Diagnostic Horizon 1: Bn
Diagnostic Horizon 2:
Diagnostic Horizon 3:
Diagnostic Horizon 4:
Land Form
Land Form: Glacial till/lacustrine
Parent Material: Lacustrine
Elevation (m): 300
Topography: Level
Affected by Glaciation: Yes
Climate
Climate Zone: Semi-arid
Mean Annual Temperature (C): 9
Minimum Annual Temperature (C): 3.3
Maximum Annual Temperature (C): 14.4
Mean Annual Precipitation (mm): 270-350
Land Use
Current Land Use: Rangeland
Original Vegetation: Giant wildrye, foxtail barley, saltgrass, red glasswort, bluebunch wheatgrass, big sage
Current Vegetation: Giant wildrye, foxtail barley, saltgrass, red glasswort, bluebunch wheatgrass, big sage
Technical Description
This soil at this grassland site is in the Solonetzic Order. Solonetzic soils occur in the semi-arid interior plains of BC in association with Chernozemic soils (to a lesser extent with Luvisols and Gleysols). They have B horizons that are very hard when dry and swell to a sticky mass of very low permeability when wet. The diagnostic horizon of this soil is a Bn horizon where the ratio of exchangeable Ca to Na/Mg is low (<1:10). This site has lacustrine parent material (saline). PDF with details:
No further details

Soil Morphology
Soil Texture of Diagnostic Horizon or Prevailing Texture: Loam
Soil texture horizons: Organic matter/litter (Ahs); clays plastic when wet, very hard when dry, gypsum crystals (Bn); salt crystals precipitate out when dry (Cs)
Soil structure horizons: Granular (Ahs), Columnar (Bn), Angular blocky (Cs)
Forest Humus Form:
Presence of Charcoal:
Presence of Coatings:
Soil Formation Processes
Primary Soil Process Group: Translocation
Primary Soil Process: Salt movement
Secondary Soil Process:
Media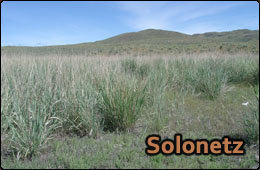 Solonetz, from https://processes.soilweb.ca/solonetz/.
---
Featured Expert: Dr. Kent Watson
Video host: Dr. Art Bomke
---